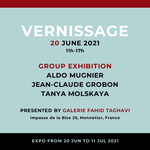 20 Jun - 11 Jul, 2021
Galerie Fahid Taghavi, Impasse de la Bise 25, Monnetier, France
Group Exhibition - Presented by Galerie Fahid Taghavi


Dear friends,
I am happy to announce that I had the privilege to join seasoned artists Aldo Mugnier and Jean-Claude Grobon in a group exhibition organised by Galerie Fahid Taghavi. The opening is this Sunday, the 20th of June!
VERNISSAGE ANNOUNCEMENT 
"Notre prochaine exposition collective réunira aldo MUGNIER, tanya MOLSKAYA et jean-claude GROBON. Tous trois vivent et travaillent dans la région genevoise.
« Solstice d'été » est un accrochage frais. Composé principalement de peintures et de dessins, les trois univers se rencontrent et font écho.
L'exposition débute le dimanche 20 Juin et le décrochage est prévu pour le dimanche 11 Juillet.
Ravi de pouvoir à nouveau vous accueillir, j'ai hâte de vous présenter l'accrochage."

Fahid Taghavi
galeriefahidtaghavi.ch