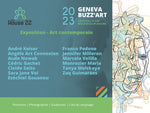 Please join us at the upcoming annual Multidisciplinary Art Festival, where I will be delighted to present my drawings.

GENEVA BUZZ'ART
08 - 11 June 2023
Rte de Saint-Julien 44, Carouge.

During the four-day program, we will explore the intersection between creativity, self-development, and spirituality, featuring a wide range of established and emerging artists from different backgrounds and genres.

The program will inspire us to reflect on our innermost thoughts and emotions, recognize the beauty of our imperfections, and embrace the transformative power of creativity. We aim to convey the idea of holistic healing that addresses the physical, mental, and emotional aspects.

During the festival, you will have a chance to meet and interact with the artists, purchase art pieces, and participate in workshops and interactive round-table discussions.

Geneva Buzz'Art is an excellent opportunity to:
• Meet the artists from Geneva, Paris, Zurich, London, Lisbon, Milan, etc.
• Discover creative and therapeutic workshops
• Enjoy live performances: theatre, dance, concerts, and DJ sets
• Network

Your participation will contribute to the success of this festive and uniting event, your feedback being very important to us.

Below are the links to register and buy your daily ticket for Saturday, 10.06.2023, and Sunday, 11.06.2023.

👉 linkr.bio/GenevaBUZZArt23

The price for a daily ticket is CHF 30, which is a symbolic contribution to support our organization's work and promotion of our artists.
This daily pass allows you to participate in any workshop of your choice, as well as the concerts and evening program.

We hope to see you at the festival!