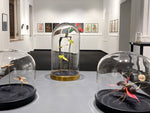 I want to express my sincere surprise and gratitude upon discovering that Tribune de Genève (TDG), one of Geneva's esteemed newspapers, featured our Group Exhibition, "VEINES," in their February 23, 2023
article
.
I would like to extend my heartfelt thanks to
Irène Languin
for her wonderful article. Irène's insightful coverage beautifully captured the essence of our exhibition:
"Once is not custom, this collective presentation proposed by the
Galerie Fahid Taghavi
is essentially deployed online. After a single day of the exhibition on Thursday, February 23 at 10, rue de la Madeleine – private visits possible on Friday 24, "
VEINES
" will be
visible on the web on Artsy.net
. A trio of artists share this virtual space. While Tanya Molskaya's brush probes the plasticity of the line like cartography, Gabriel Ruta composes with his "Plant Entomology" elegant imaginary insects using leaves, twigs and seeds. As for Solko Schalm, he questions the genres of still life and landscape by reinterpreting them."
To read the full article by
Irène Languin
, please follow this link to Tribune de Genève's website:
https://www.tdg.ch/des-gravures-en-clair-obscur-aux-realites-du-grand-nord-109703090815