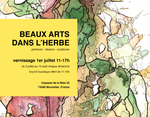 1 Jul - 15 Aug, 2023
Galerie Fahid Taghavi, Impasse de la Bise 25, Monnetier, France
Group Exhibition - Presented by Galerie Fahid Taghavi
Galerie Fahid Taghavi is delighted to welcome you to the summer gallery from July to mid-August with a collective exhibition entitled "BEAUX ART DANS L'HERBE". 

In this group show, you can enjoy a variety of paintings, drawings and sculptures and meet the artists every Sunday from 11 a.m. to 5 p.m. around a free brunch in the garden.

If you missed my expos in February and June 2023, it would be an occasion to see some of my recent work.

Opening on July 1 from 11 a.m. to 5 p.m!