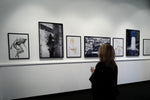 1 - 3 Mar, 2022 
Galerie Fahid Taghavi, 10 Rue de la Madeleine, Geneva, Switzerland. 
Group Exhibition - Presented by Galerie Fahid Taghavi. 


This collective exhibition brings together recent works of two artists Tanya Molskaya and Jeremy Spierer.

When drawing, Tanya immerses herself in music and seeks a letting go that characterises her line. What she does is very free. Her works are nocturnal, often full of a drama that could be qualified as eastern, which she treats with a lightness that gives all its simplicity. These are intentions, directions, ample movements... Her line is sure and seems detached. Her particular style almost always puts the human being at the centre. Her drawings are a diary in a way, but we would invite viewers to give their own interpretations of her work, which she signs as SQUIGLET, from squiggle or "a free looping and curling line".

"Pretty Mundane" is an ongoing project, which Jeremy has been working on for several years. It brings together snapshots of everyday life that together represent, in a way, a "personal diary" of the artist. Strong geometrical shapes, interesting angles and the use of unusual perspectives bring out graphical qualities in each piece, making the viewer see the everyday objects in a new light. His photography is on the spot. In the street, he captures the moment of interaction between human beings, situations and architecture like a documentary filmmaker. On his walks, he links nature with urbanism.